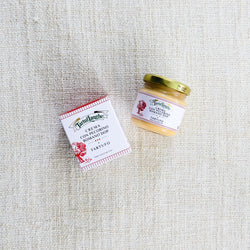 Tartuflanghe Pecorino Romano Cheese Cream w/ Truffle
This fine cheese cream is the remake of the famous Alfredo sauce, the well-known Italian sauce that was invented in Rome at the beginning of the twentieth century. This sauce was (and still is) very famous and loved by the celebrities from Hollywood who were visiting the Eternal City. This typical recipe has been re-elaborated with the precious truffle from Piedmont. The final result is a fine cream, excellent to dress short pasta, risotto, ravioli and tortelli, or to replace the white sauce in baked pasta and cannelloni.
GLUTEN FREE
Each package is 90g.