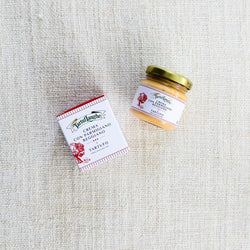 Tartuflanghe Parmigiano Reggiano Cheese Cream w/ Truffle
This tasty cream joins a symbol  of the Italian gastronomical excellence, the Parmigiano Reggiano cheese, and a precious jewel of the the earth, the truffle.
The intense taste makes it ideal to dress any kind of pasta, to glaze asparagus or to use as spread for tasty appetizers.
GLUTEN FREE
Each package is 90g.