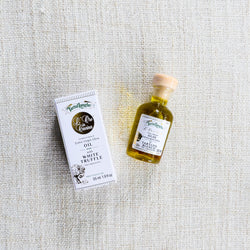 Tartuflanghe Extra Virgin Olive Oil w/ White Truffle Slices
Our "ORO IN CUCINA" is considered the best truffle oil on the market by many specialized magazines.
It contains thin slices of truffle and is ideal to enhance cold and warm dishes with the classic flavor of the white truffle. Delicious on salads, pasta, risotti, meat carpaccio, meat fillets, cheese and eggs.
Our extra virgin olive oil 100% Italian is produced according to the oil tradition that guarantees a very high quality product.
The oil is green with some golden glints. Its bouquet is of fresh vegetables, almonds, fresh flowers and fruit. The taste is fruity, delicate and harmonious. These characteristics are excellent for combining with the flavour and taste of our truffle.
Each package is 55ml.