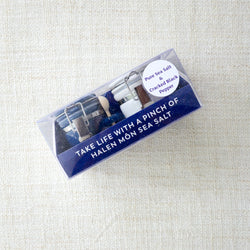 Halen Môn Twin Mini Jar Set w/ Pure Sea Salt & Cracked Black Pepper
This duo of Halen Môn's little branded ceramic jars comes filled with their award-winning sea salt flakes, and specially selected cracked black peppercorns sourced from Vietnam.

A lovely present for a loved-one who appreciates the simple things in life. Where better to start than with a pair of the best seasonings money can buy?
Size: each jar is 6cm high