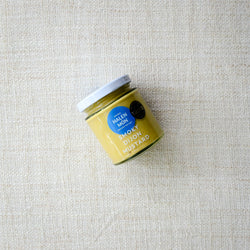 Halen Môn Smoky Dijon Mustard 200g
Awarded 3 Gold Stars in 2019 Great Taste Awards, the highest accolade in the Oscars of the food world.

A classic dijon mustard blended with our award-winning Smoked Water. A slick in a ham sandwich gives a smoky bite, or just a dab will make a potato salad sing.
Described by the Great Taste judges as having 'a bold mustard aroma, followed by heat and sea salt. Then we wait and up come smoked notes and a completely different layer of flavour – which lingers and is very measured..' We'll take that!