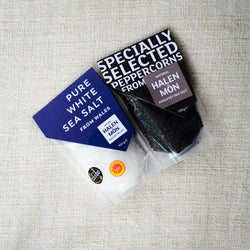 Halen Môn Pure White Sea Salt + Black Peppercorn Bundle
This salt is famous for a reason. Tastes of the cleanest oceans and delivers an intense salty crunch to anything it is added to.
Halen Môn original Pure Sea Salt tastes of the cleanest oceans and has an intense crunch that makes even simple foods such as ripe tomatoes, potato chips and tuna carpaccio taste incredible.
This product comes in an eco-friendly re-sealable pouch.