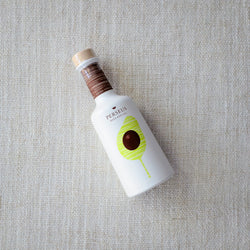 Perseus Avocado Oil
Perseus Extra Virgin avocado oil is obtained from the finest selection of Spanish Hass avocados. The avocados are cultivated and matured under the Spanish sun. When they reach optimum ripeness they are carefully hand-picked. Then the flesh of the fruit is separated from the skin and the stone by hand.
A perfect, smooth, extremely tasty dressing for fresh salads, or it can be used for cooking white meats, fish or seafood and can be used in the preparation of desserts.
Production
The oil is extracted using cold press and mechanical methods and there are no chemical substances involved in the process. This method ensures the product retains all its organoleptic properties and keeps its nutritional value; giving a high quality end product. Low temperature production ensures that the oil conserves the beneficial properties of the fruit including its singular taste, aroma and colour. 
---
Culinary benefits
Careful and rigorous selection of premium fruit means that the the most exquisite and delicate oil products are obtained
Smooth and subtle
Avocado oil products have a smooth, subtle flavour to enhance any dish they are used in. Enjoy the remarkable avocado flavour with a hint of hazelnut.
Versatile
The delicate flavour makes the products ideal for use in cooking with a wide variety of foods including white meats, fish, seafood, salads and desserts.
---
Health benefits
Avocados are considered a Superfood, as nutritionally speaking, they are one of the most complete foods.
Healthy
Avocado based products are among some of the healthiest in the world, only comparable with products made from olives.
Rich in nutrients
They are a great natural source of oleic acid, vitamins (particularly Vitamin E) and Omega 3, 6 and 9. They are high in beta sitosterol, chlorophyll, minerals and antioxidants; all highly beneficial for a healthy body.
Additive free
None of Perseus' products contain additives, preservatives, trans-fats or genetically modified foods and are cholesterol free.