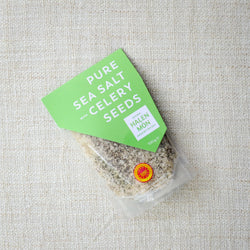 Halen Môn Pure Sea Salt with Celery Seeds 100g
None of the other celery salts quite hit the spot. So the Halen Môn team made their own. As delicious in a Bloody Mary as with a prince's hardboiled quail's egg.

Try it with:

an egg sandwich on lightly toasted fresh white bread

tomato juice, vodka and a splash of smoked water for the best Bloody Mary you'll ever have

mushrooms on toast with a little thyme and plenty of butter

oven dried cherry tomatoes stirred through pasta
This product comes in an eco-friendly re-sealable pouch.